Help Solve Some of the Biggest Problems Facing Our Society with an Environmental Science Degree
Why is Keuka College the best place to study environmental science? A campus surrounded by freshwater lakes and forests. A wide range of aquatic and terrestrial ecosystems open for you to explore. An expert faculty.
As an Environmental Science major, you'll be prepared for a future of finding responsible solutions to local and global environmental challenges.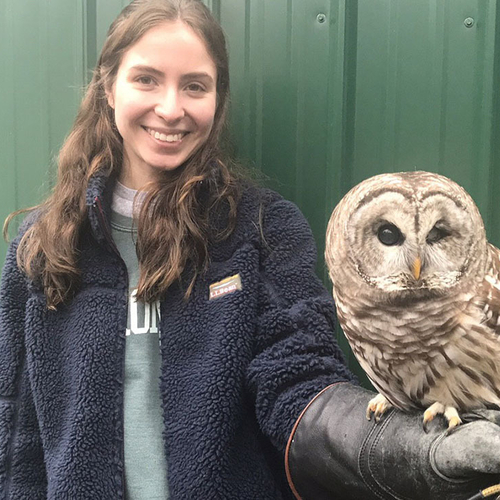 Field Period® Helped Me Define My Goals — and My Career
My Field Period® experience confirmed that I would like to pursue research and that advocacy and education is not my thing. The greatest benefit I got from my Field Period® was getting experience in my field, and being able to work with such amazing animals.
Program Overview
The program provides you with the option to focus on the physical or biological science of the environment by training in the fundamentals of mathematics, physics, chemistry, biology, and earth science.
Research Opportunities
Numerous undergraduate research opportunities, both on-campus and off, have included studying how pesticides influenced eggshell thickness, replanting a nature trail after invasive species put it at risk, and identifying factors that influenced adoption patterns of dogs and cats at a no-kill shelter.
Our students often present their work at regional and national scientific meetings and some have even published papers with one of their professors in peer-reviewed, academic journals.
In keeping with Keuka College's emphasis on experiential learning, you'll also become a scientist outside the classroom. You'll be encouraged to work with professors on independent research projects, and many students have had the opportunity to present the results of their work at professional conferences.
Learn More About Environmental Science
The Jephson Science Center is one of the College's most recently-renovated buildings. A highlight of the center is that the laboratories weren't simply designed by architects, but by the professors who use and teach in them. That means the labs you'll use at Keuka College mimic real-world laboratories, and include much of the same equipment.
The equipment in our laboratory includes:
High-Pressure Liquid Chromatograph (HPLC)
The HPLC is used to separate, identify, and quantify each component in a mixture. It carries liquids from glass bottles through thin plastic tubes, passing through several compartments containing an oven, vacuum pump, solution tray, and detectors for analysis.
Gas Chromatograph-Mass Spectrometer (GC/MS)
The GC/MS separates mixtures into individual components and identifies separate fragments so you can determine what the molecules are. The GC/MS features a rotating unit that can extract samples from a tray of up to 108 small vials at one time, conducting analysis as programmed by a small touch screen at the side.
Connected to the CG/MS is a computer running high-performance software that converts the data readings of molecular ions into a bevy of colorful charts and graphs. Based on the peaks and plunges of a fragment's chart, the computer searches a large digital library to find the closest match–all in a matter of seconds.
Fourier Transform Infrared Spectrometer (FTIR)
The FTIR contains an oval plate with a small diamond reflective element through which infrared light can pass. Connected to another computer running high-speed software, the FTIR is able to provide information about the identity of liquid or solid compounds.
Lambda-35 Ultraviolet Spectrometer
The UV spectrometer uses visible and ultraviolet light to determine the absorption spectrum of a solution, which will show how much light it absorbs across a range of wavelengths. This information is then used to determine the concentration of particular chemical components.
At Keuka College, you're able to work with world-class scientists every day. Here, your professors are eager to teach, work on research projects with you, and share their knowledge. All of Keuka College's natural science professors hold doctoral degrees from top-tier institutions, including Yale and MIT.
Contact Information