Master the Art and Science of Price, Product, Place, and Promotion
Marketing is everywhere. Marketing skills are sought after in all areas from business to politics, from cable to Twitter, from Google to the next best thing on Kickstarter. And everywhere from New York to Asia.
Keuka College's marketing programs equip you with the knowledge and skills necessary to be successful in one of today's most dynamic fields. Marketing is offered as a major, a minor and a concentration, making it easy for you to add a marketing emphasis to whatever path you chose at Keuka College. You'll take courses in advertising, public relations, consumer behavior, retail marketing, Internet marketing, and more.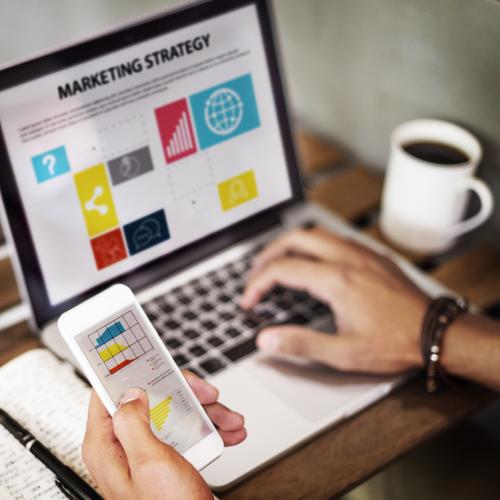 Get Real Marketing Experience
Real-world, hands-on experience is an important part of your degree.
The Keuka College Field Period® gives you the chance to have four separate Marketing internships. You'll have the chance to explore different career paths and choose the one that's right for you.
Program Overview
Marketing Major
There's never been a better time to enter the marketing profession. Social media marketing, mobile marketing, and Internet marketing have transformed the field. Everything is new, and that means lots of opportunities for those who are prepared.
Keuka College's marketing major offers you a strong foundation in all the business fundamentals and exposure to a wide range of marketing areas—like consumer behavior, retail marketing, international marketing, Internet marketing, marketing research, marketing planning, public relations, and advertising.
You can combine your Field Period® experiences, which give you professional experience and a network of contacts, with elective classes to fully customize your degree. Many students take advantage of our unique location in central New York—home of wine, microbrew beer, and craft cheese entrepreneurs.
Today's business world is constantly changing; however, new technology, innovations, and ways of thinking present opportunities for the marketing-savvy graduate. Keuka College's marketing program prepares you for success in the global marketplace.
Marketing Minor
Marketing is integral to every business and organization. No matter what your major, a marketing minor is a perfect complement. The minor would be especially useful to majors in social work, biomedical biology, ASL-English interpreting, art & design, and other majors that lead to entrepreneurial practices, or the need to promote your own products and services.
Learn more about or Marketing Program
At Keuka College, your marketing faculty are more than just great teachers. They're accomplished marketers, executives, and practitioners who will serve as mentors and help you achieve your goals. As a marketing student, you'll also have the chance to work with and study under the accomplished leaders, teachers, entrepreneurs, and business scholars who comprise the College's business and management faculty.
And each of your professors come to the classroom with real-world experience in the field that complements their academic knowledge. Our faculty have worked in some of the world's largest financial centers, served as leaders in Fortune 500 corporations, started (and continue to maintain) their own enterprises, and held executive roles with some of the world's most prestigious brands.
Contact Information