You've probably heard of crayfish.

You probably haven't heard of the bacteria known as Wolbachia.

Until recently, no one had ever heard of a case of the latter infecting the former.

Keuka College junior Austin Glazier changed all that.
The biology major, in research he is conducting with Keuka College Associate Professor of Biology Dr. Luciana Cursino-Parent, established the presence of Wolbachia in crayfish samples taken from Keuka Lake. It was a first.

"It's the most prevalent, most invasive bacteria to begin with," said Austin. "And it's one that infects the most kinds of hosts around the world today. They normally infect arthropods and certain crustaceans but they've never been found in crayfish before."
Austin's discovery was the result of hard work and determination – along with Keuka College's commitment to one of its core values: Student Success. The College operates under the directive that the success of each and every student is prioritized, a value it demonstrates by, among other practices, putting student achievement at the center of all that it does.
That's certainly the case for Austin's mentor and research partner, Dr. Cursino-Parent, who regularly collaborates with students outside the classroom on research, presentations, and other student-led initiatives. In fact, it was hearing a fellow Science Club member's description of working with Dr. Cursino-Parent – known to her students as "Dr. C" – that piqued Austin's interest in doing likewise.

"Sarah Bresette '21, she did an honors project with me," said the professor, describing efforts to identify Wolbachia in insects. "Because she was doing so well, and because she was the president of the club, she got to share her experiences of working with me and presenting in conferences with the other students. Then, Austin said, 'Dr. C., I think Sarah's work is so cool! Can we test for Wolbachia in other species?' Sarah was finishing up her thesis and she said, 'Here it is; I pass you the torch!'"
Austin ran with it. He spent the summer between his sophomore and junior years collecting crayfish samples from the Keuka Lake watershed, extracting DNA samples in the Jephson Science Center, having them sequenced at an outside lab, then running the results through several computer models to determine the accuracy of the bacteria levels.
The research caught the attention of the Rochester Academy of Sciences, which invited Austin and Dr. Cursino-Parent to present their poster, "First Report on the Presence of Wolbachia sp. From Freshwater Crayfish Species in the Keuka Lake Watershed," at the 47th annual RAS Fall Paper Session held last November at Nazareth College. The Academy then awarded Austin $500 to continue his research this summer.

"I was stoked!" Austin recalled upon learning the news at his Owego home. "I immediately forwarded the email to Dr. C and we called on the phone really fast and we were super excited talking about it and how great it was going to be to have all the extra money to work on extra research."

That research is taking place this summer as Austin uses his Field Period® looking to determine exactly which strain of the alpha proto bacterium is infecting local crayfish – an important prerequisite to sharing the results in a professional publication.

"We know that there is Wolbachia there, we just don't know what kind," said Dr. Cursino-Parent. "We have to figure out which one it is before we publish."

Along with a scholarly byline, the research is also providing Austin – who was named Keuka College's 2021-22 Upper-Class Experiential Learner of the Year – with new ideas for his career path.
"At first, I was thinking more of being like pre-med to medical school," he said. "But now I'm kind of leaning more toward a research base and all of the science work and the lab work that I'm really enjoying doing."

That enjoyment comes from the opportunities that arise as a result of the College honoring its commitment to student success.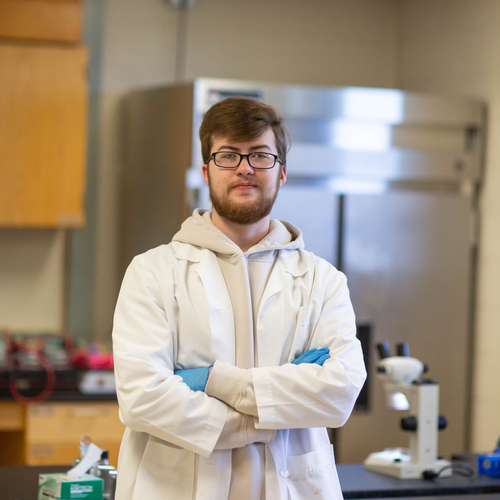 This size college is great for one-on-one interaction with your professors and being able to find these certain opportunities that you really want. It's really helpful and it's a great thing to have.
Want to Learn More about our Biology Program?
Fill out our form to connect with us to find out!