Deciding which law school to attend can be a challenging decision for a fledgling attorney.
Getting accepted into five of them can't make that decision any easier.
But that was the welcome dilemma facing Keuka College's Amber Benjamin '22, who dreams of practicing law. That career goal was solidified thanks to Field Period® opportunities that took her to several attorneys' offices.
"I knew Field Period® would be a chance to test out where I want to go," said Amber, a resident of Watkins Glen.
She credits much of her success to her professors, particularly Assistant Professor of Marketing Kim DeRuby, Associate Professor of Political Science Dr. David Pak Leon, and Professor of History Dr. Chris Leahy.
"What impressed me most about Amber is her quiet determination to succeed," said Dr. Leahy. "She recognized that everything she accomplished at Keuka College was part of her larger goal of getting into law school. I have no doubt she will represent Keuka College in exemplary fashion and make a difference in her life and career."
That quiet determination was in evidence as Amber set her sights on her first-choice school — Syracuse University College of Law.
"I was initially waitlisted at Syracuse, and I was not expecting an acceptance," she said. "I wrote a letter of continued interest, updated them on my increased GPA and activities, and how I could be an asset to them as a student. And then I got an email that started off saying 'Congratulations!' so it was very exciting."
Along with her Communication Studies degree, Amber brings a wealth of legal-world experience to Syracuse, thanks to her Field Period placements – one of which helped her determine what type of law she may pursue.
"There was another attorney in that office who was a family court attorney and I was very interested in that," said Amber. "I was able to sit in on court cases with her and talk about documents, the legality behind family court, and how to advocate for children. So now I am torn between going into criminal law and family law."
Along with the edge her Field Period® experiences have given her in entering law school, Amber credits the encouragement she received from her professors.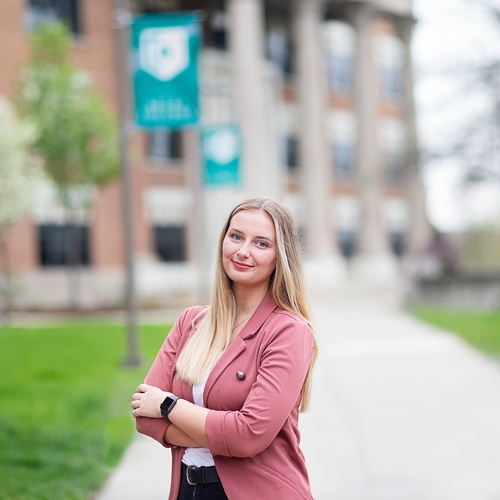 "I was very fortunate to meet the professors I had here because they were able to point me in the right direction. I've always had their support. I knew Keuka College was a place of 'we've got your back,' 'you're going to get through this,' and 'we are going to help you become an attorney.'"
Prof. DeRuby has no doubt Amber will be successful in her law career.
"Amber is dedicated, driven, and determined to excel in her achievements," she said. "But most importantly, she is intrinsically motivated by her passion to make a difference and serve others with humility and compassion. It was an honor to share in her education journey. I can't wait to follow her shooting star."
Keuka Collge's Field Period program is overseen by the Office of Experiential Learning and Career Engagement. Visit this page to learn more about the many opportunities the program offers.