With solid academic programs, experiential learning and research opportunities, athletics, extracurriculars, and financial incentives and scholarships, Keuka College offers a multitude of paths to student achievement.
Daniela Aguilar '23 seems to have taken all of them.

As a scholar, the senior biology major has embarked on a year-long research project that will benefit the College and future students for years to come.

As a work-study student, Daniela has joined forces with staff in the College's Alumni Relations and Admissions offices, cultivating connections with students who came before her and those yet to follow.

As a student-athlete, the Women's Golf member has enjoyed and benefited from the mutual support and encouragement that comes from being part of a close-knit team.

As an RA, she's not only a source of information and guidance for younger students but a role model who leads by example.

She said the College's environment – its size and student-centered focus – is what has enabled her to take advantage of so many opportunities for personal growth.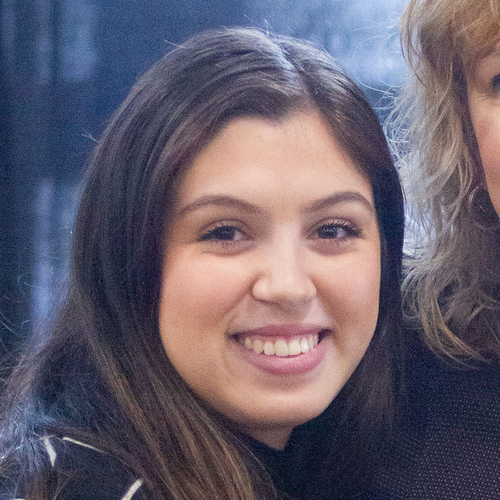 "I love the small campus community. I feel like if I went to a bigger school, I would just get lost."
Not much chance of that on the Keuka Park campus, where instructors not only invest time in each individual student, Daniela said, but get to know their interests and personalities.
Shared Interests
Case in point: Instructor of Biology Jessica Katolik, who is overseeing Daniela's senior project.

"I remember walking into micro lab," said Daniela, "and she walks up to me and goes, 'You like dead things, too, right?' And I'm like, 'Yeah, I love dead things.' And she was like, 'Great, I have a project for you.'"

That project, which started as a Field Period® and expanded into a year-long senior research initiative, has seen Daniela tackle the formidable challenge of cataloging the College's collection of skeletal remains, which are used for anatomy instruction.

"All the documents are gone," she said. "So, my job is, OK, let's give these people some identification back."
She said that opportunity might not have arisen had she not forged close bonds with Prof. Katolik.

"We'll literally finish each other's thoughts," said Daniela. "It's not even sentences, it's thoughts. I would never have that kind of connection if I were in a bigger school."

Prof. Katolik said Daniela's attention to detail and ability to work independently make her the perfect scholar to launch the documentation effort, which will be handed off to younger students from year to year.

"She's just absolutely a gem of a student," the professor said. "When we started the project, I had to deal with a family emergency, so she really set up and performed the entire project herself.

"And then one day she surprised me; she said, 'Hey Jess: I started making a website.' And I'm like, 'I love you; you're so amazing!' She's willing to go above and beyond. And now she's taking what she learned and taking a leadership role in the lab and teaching (other students)."
Rewarding Experiences
In her roles as an RA in Ball Hall, and through working on alumni and admissions efforts, Daniela has engaged with students literally before, during, and after their time at Keuka College. The responsibilities have sharpened her life skills and enriched her College experience.

"These ended up being one of my favorite memories here," she said. "When I say, 'I went to college,' I'll say, 'I worked in Admissions; I worked in Residence Life.' These are a big portion of my time here."

As an avid golfer, the Pittsford, Monroe County, native's hours on the golf course were likewise rewarding, thanks to the camaraderie she shared with her teammates.

"I really love being on a team," she said. "Even though technically, we're not playing together because we have individual scores, we're still helping each other, we're still learning from each other. We're there for each other and making sure that we're all progressing in the sport."

None of these experiences would have been possible, Daniela said, without the support Keuka College provides:

Financially: Because of the academic scholarships it offers, Daniela said, she was surprised to learn Keuka College cost less to attend than her local community college – with the added benefit of providing the on-campus experience she craved.

Academically: "The teachers here are literally invested in you," she said. "Their first sentence – whether it's syllabus week, whether it's finals week – is always, 'What can I do to help you? How can I help you learn?'"

Professionally: Daniela said the support from College staff and the opportunities to work side-by-side with employees helped her develop communications and leadership skills that will last her a lifetime.
She shared a very public thank-you to the College as a whole during the Spring 2023 semester Community Day gathering:

"I would not have been able to learn about myself without learning from our faculty," she told the assembled audience of approximately 150 faculty and staff. "I would not have been able to push myself without the athletic department. I wouldn't have even come here without our financial aid and admission departments."

As she interviews at graduate schools to continue her education en route to her career goal of becoming an autopsy technician, Daniela said she's looking for an institution much like Keuka College.

"I would like to stay at a small college," she said. "I don't want to be lost."