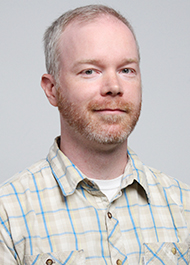 Dr. Andrew Robak
Professor of Chemistry
(315) 279-5431
[email protected]
---
Academic Credentials
University of Oregon
Ph.D.
University of Oregon
M.S. in Chemistry
Rochester Institute of Technology
B.S. in Environmental Chemistry
---
Biography
Dr. Robak started teaching at Keuka College in the Fall of 2007 and is the primary instructor for organic chemistry at Keuka.
He is the adviser for Keuka's chemistry club and also directs a number of undergraduate research projects. Active research projects include: Exploring click chemistry for organic synthesis, developing new surfboard coatings from polyurethanes, designing chemistry experiments for home-schooled children at the high school level and a project using chemistry and photography to promote both art and science.
Other research interests are: designing more environmentally friendly lab experiments
---
Professional Interests
chemistry, organic chemistry, science based medicine, green chemistry, science in popular culture, science as art, polymers/plastics, science education, explosive chemistry demonstrations, inorganic chemistry