When you're ready to make a change in career direction, Keuka College is ready for you.
Matt Carpenter has been an officer with the Rochester Police Department for more than 15 years and he earned his bachelor's degree in 1997. But the loss of a fellow police officer by suicide on that officer's 20th anniversary on the job caused Matt to reassess his priorities.
"I felt like I should have done more (for his colleague), and to pay it forward," Matt says.
So Matt, whose wife, Julie is also on the RPD, decided to pursue his master's degree in Criminal Justice Systems at Keuka College. The climbing number of police suicides motivated him to study behavioral science and Keuka College was an obvious choice, he says.
"The RPD has a very good relationship with Keuka College," says Matt. "I prefer the Keuka College schedule. You have the best of both worlds – in class, you can discuss things with the professor. I liked the structure each week. Some weeks were more intense, so I knew how to structure my time. It was easier for time management."
Convenience and Confidence
For a busy officer, convenience was a plus – Matt's cohort was able to meet right in Rochester.
Another reason Matt chose Keuka College: "I didn't enjoy school that much as an undergrad," he confesses. "But it seemed like everyone at Keuka was more interested in me as a person. I never felt like a number."
And Matt says his professors always challenged and supported him.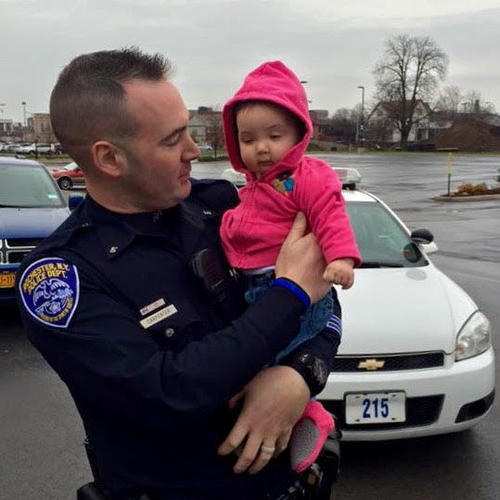 Keuka College brings in top experts, like New York State Supreme Court Justice Craig Doran. The professors allowed me to see my potential – I surprised myself.
Paying It Forward
Matt was also selected by the New York State Department of Criminal Justice to help develop and present a 16-hour curriculum for officer wellness for all Police Academy candidates across the state. The program is intended to combat the epidemic of police officer suicides.
He's also had three articles published in peer-reviewed journals. So far.
"I really enjoyed Keuka College," Matt says.
And he's sticking to his plan to "pay it forward."
"When I retire," he says, "I plan to teach full time at a college."